HOME PAGE

Daniel's Timeline


Welcome to Daniel's Timeline!
Please see an important up-date at the bottom of this page.
We know and confess that Yeshua (Jesus) is the Messiah and our Lord; no one comes to the Father except by Him.
This website is based on the fact that the written Word of God, overrides, precedes, and nullifies any conflicting theory, teaching, or doctrine regardless of the source, whether it comes from Christianity, Judaism, the Oral law, the Messianic movement, or the Traditions of men.
By no means do we believe that anyone has the authority to change one jot or tittle of the of the written Word of God, nor do we practice it here at Daniel's Timeline. If God says it, He means exactly what He said.
Even though we cover other topics here at Daniel's Timeline, the primary purpose of establishing this website is to inform God's people of what we believe the God of Abraham, Isaac, and Jacob, the same God who will be at the resurrection, has revealed to be the up coming years of the Great Tribulation and the glorious return of our Lord.... The years are openly posted at this site.
*The secrets will be revealed, nothing is secret that shall not be made known ...
Luke 8:17 For nothing is secret, that shall not be made manifest; neither any thing hid, that shall not be known and come abroad.
*We will be shown before they come to pass
Revelation 22:6 And he said unto me, These sayings [are] faithful and true: and the Lord God of the holy prophets sent his angel to show unto his servants the things which must shortly be done.
Amos 3:7 Surely the Lord God will do nothing, but he revealeth his secret unto his servants the prophets.
Just below is a picture of a very important historical document that bears record to the 100-fold fulfillment of prophecy. It is a special morning edition of the Eretz Israel - Palestine daily news paper dated 11/30/47 announcing the UN decision (UN Resolution 181) to establish a Jewish State which brought forth the BIRTH OF THE STATE OF ISRAEL in 1948.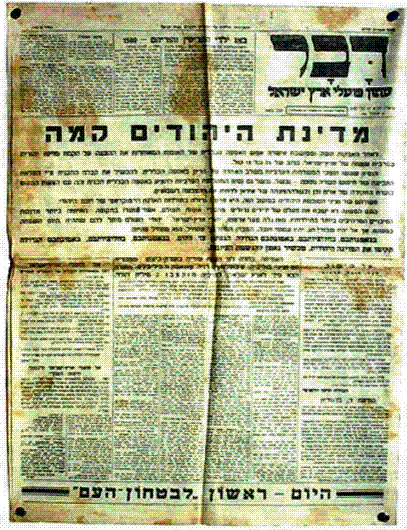 Now that 2017 has come and gone, I have been seeking an explanation why things didn't come to pass the way everything seemed to fit. The prophecy in Daniel Chap 9 does say "70 Weeks/Years are determined to finish the work" (1947 + 70yrs = 2017), plus the fact that Yeshua plainly told us this Generation (70yrs) will not pass till all is fulfilled....so what happened?
A verse in Psalms that seems to give an explanation:
Psalms 90:10 The days of our years are threescore years and ten [70-yrs: one Generation]; and if by reason of strength they be fourscore years [80-yrs: 10 more yrs] yet is their strength labour and sorrow; for it is soon cut off, and we fly away.
Please go to an important up-date that enlightens the understanding on Daniel's 70 Weeks, click on the Menorah below.